We've reached the end of our countdown to Heritage Festival (all of the fun begins tomorrow), and what better way to end the week than with a sweet treat from Scandinavia! Scandinavia is a subregion in Northern Europe, with strong historical, cultural, and linguistic ties between its constituent peoples. The Nordic Region consists of Denmark, Norway, Sweden, Finland, and Iceland, as well as the Faroe Islands, Greenland, and Åland. We met up with the large volunteer team from the Scandinavian Heritage Society and the Sons of Norway, where they were having their Rizkrem (Norwegian rice cream) making sessions.
---
---
We got first hand insight into the amount of work that goes into mass producing this authentic food for the Festival, and it's no simple feat. There were measuring stations, cooking stations (with volunteers standing on chairs so they could better stir the HUGE pots of rice, milk, sugar mixture), cooling stations, packaging stations, raspberry making stations, and that was only for the first day of the process! Sharon from the Scandinavian Heritage Society shared that there could be faster ways to get it done, but they want it to be perfect, and taste just like it does when made at home, for people to get a true taste of the culture. During this visit they were preparing the rice mixture, which is called grout. It involves boiling the rice, sugar, and milk for about an hour. There are a few tricks to ensure this turns out the way you want it… you have to stir very frequently to prevent even the slightest burning.  The other is that you have to let your mixture cool down completely before putting it away (this is usually a 2 day process since it needs to cool down sufficiently and set). If you don't let it cool sufficiently, you'll get a less than desirable 'film' and the texture will be off. The other key to full flavour, is full fat milk! We had a big spoonful of the finished grout and wooooowwwwwwww, even without the whipping cream (which comes in step 2) it was heavenly.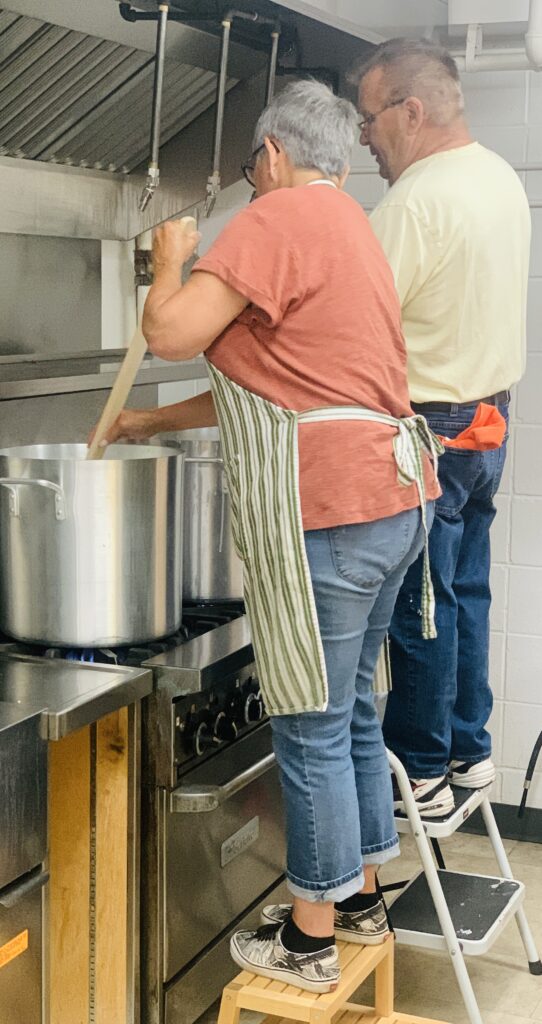 After getting the run down on preparing the grout I was led into another part of the community centre, and as we approached the other kitchen, the sweet smell of raspberry hit me- I wish they made air fresheners that smelled like this, you could almost taste it. I walked in to find vats of beautiful, bright raspberry sauce and a lovely group of women, stirring away at the stove. They shared a little bit of history around their involvement in Heritage Festival and one of them pulled out her notes, which had stats dating back to 1991 from all of the years past. She keeps a record from all of the previous years around how much was made and shared they will be making about 60 Litres. They told a story about one of the earlier years in the Festival, and how they ran out of raspberry sauce, and she went home, picked raspberries from her bush and made more sauce. This dessert is a big seller and they sell out every year- so that speaks to how yummy it it! They shared that different families have their own version of this recipe, and even across the Nordic countries there are variations of the dish. Raspberry is the fruit of choice because you need something that has a tart flavour to cut the rich sweetness of the rice porridge. Alternatively they suggest that another nice fruit option would be choke or pin cherries.
A few days later we came back to see it all come together and whipping cream wonder was happening everywhere! Fresh whipped cream is added to the grout and mixed in thoroughly, which creates the final dish! To get the perfect taste, they add a bit of sugar, and vanilla to the whipping cream. You want it to be very stiff, so that it creates a thick texture and doesn't separate. So much care goes into making the final product- and when I tasted it, you can definitely taste the love that goes in. Drizzle your raspberry sauce on top and you have a dessert that is unforgettable.
---
---
Pro Tips from the Cooking Crew:
When cooking the grout mix, stir right to the very bottom to prevent the milk from burning.
Cool your finished mixture to a minimum of 33 degrees before storing away for step 2.
When making your raspberry sauce, stir it constantly to help the raspberries break down more quickly; you don't want to overcook your sauce! It takes just the right amount of time so you retain that beautiful, bright color and fresh tang.
To thicken your raspberry sauce, use potato starch instead of cornstarch. Potato starch is more translucent and will impact the color of your sauce less, keeping it bright and bold.
Add whip-it to the whipping cream as the secret ingredient to making it very stiff- this will give you a better texture, keep the complete dish from separating and allow it to maintain a perfect texture & taste for days.
Once again, we are in awe of the amazing volunteers who come together and give so much time, and skill to create a meaningful cultural & culinary experience for the guests of Heritage Festival. A few members of the team shared that this dish is considered Norwegian comfort food and is generally served on special occasions, particularly Christmas. Check out the Scandinavian Pavilion at the Heritage Festival where the Norwegian team will be serving up this special dish and several others- like the Icelandic hotdog, made right here in Edmonton at K&K Deli. What makes this hotdog special? It's the meat blend, a unique combination of lamb, pork and beef, topped with dried onions and remoulade. We are getting hungry just thinking about it! The Scandinavian Pavilion with also be joined by their fellow countries showcasing food from all across the region- so many delicious options! Scandinavia has been a part of Heritage Festival from the very beginning, so they are also celebrating their 50 year Anniversary. They definitely know a thing or two about making great food and we hope you get a chance to try their signature dish (it sells out every year- so don't miss out!) Thank you to the Scandinavian community team, your sense of community and connection was inspiring. Check out how it all happened in our video below; we hope you find a way to bring little taste of Norway into your home with this special recipe passed down through generations.
Full Recipe coming Soon!