We met up with Claudine, Rudy and Carline to learn how to make a Cameroonian specialty 'Poulet DG'. If you're thinking: where is Cameroon…. wellllll friends, it's a beautiful country in West-Central Africa and here are some facts shared by our guests from the Cameroonian Association of Edmonton:
A little bit of food history around the name of this dish: Cameroon is a French-English bilingual country and poulet (meaning chicken in French) is a common ingredient, but this is not your average chicken. Traditionally it would be prepared for high ranking officials when they came to visit, such as a Director General, hence the name which translates to 'Chicken for the Director General'. It is traditionally made on special occasions, and is a delicious combination of vegetables, plantain and flavourful grilled chicken, all mixed in a rich tomato based gravy. Who doesn't love a great one pot meal?! This is one you will definitely be adding to your cooking rotation.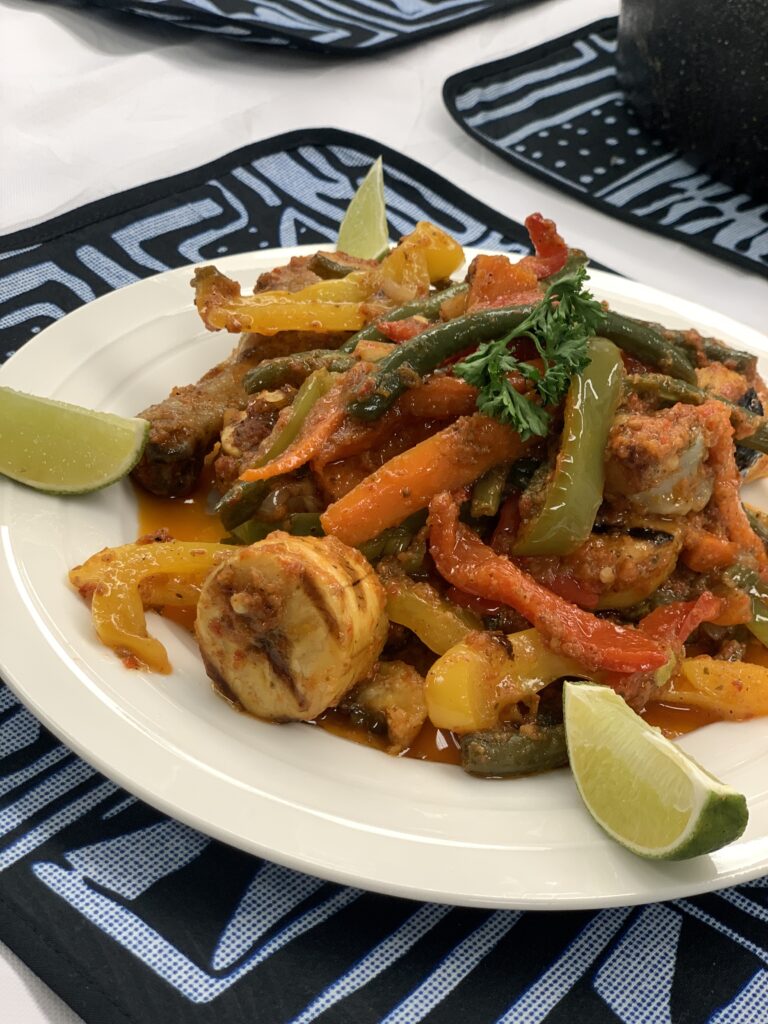 Let's talk more about the ingredients…. there are a few special secret ingredients that give this dish it's distinct flavour. Have you ever used country onion? Also known as rondelles, olum, bobimbi, this ingredient is from a tropical, West African plant and has a strong garlic flavour profile. This is one ingredient that is CRITICAL to get that extra layer of deliciousness- and we recommend you try it out in other ways. It's great in soups, stews, on grilled or baked chicken/meat; Claudine says that you can't go wrong using this spice.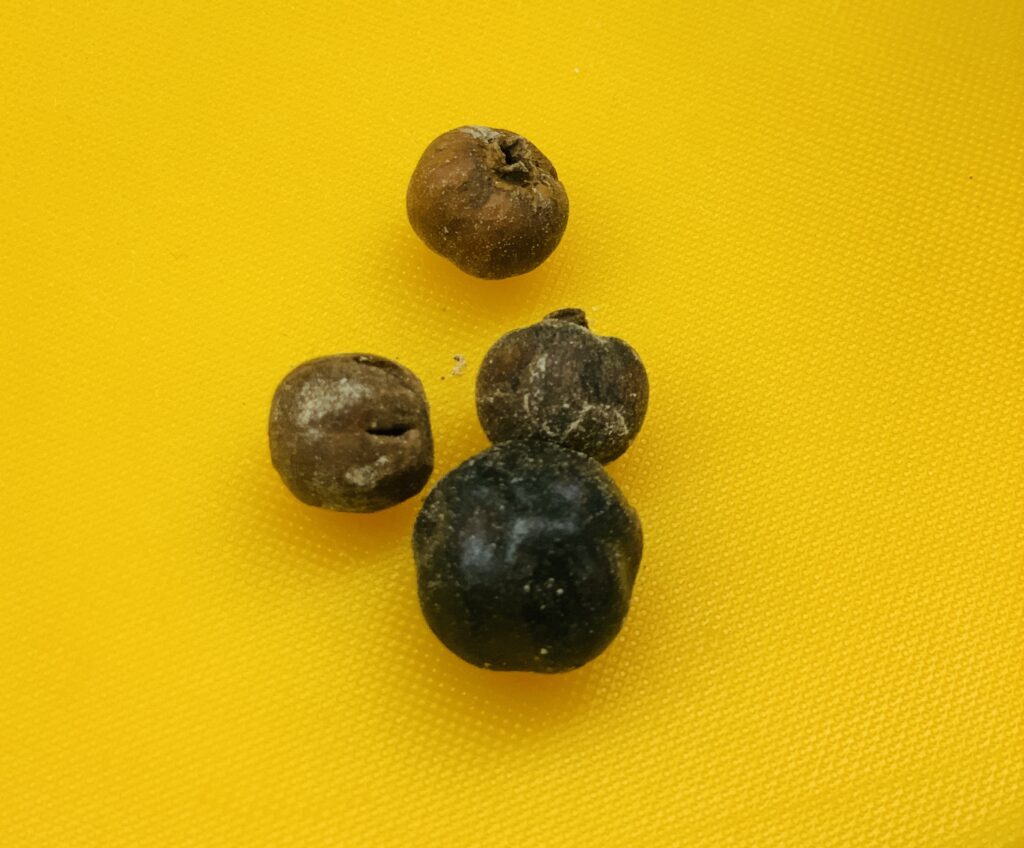 Secret Ingredient #2 is the white pepper. White pepper has a unique taste, but this one is a little bit different than the one you will find in most grocery stores (although you can substitute and use that one if it's all you can find). The Cameroonian white pepper comes from the Penja Valley In Cameroon. Penja pepper is the fruit of a giant creeper plant. The rich and fertile volcanic soils of Cameroon give penja pepper its truly distinct aroma. Both this special white pepper, and country onion can be a little bit more tricky to source; but give your local African or International grocery stores a try. Here in Edmonton, you can usually find these items at Kasoa Tropical Foods Market. The Cameroon Pavilion will also be selling special imported spices at Heritage Festival, so you can plan to pick some up there to try this recipe at home.
---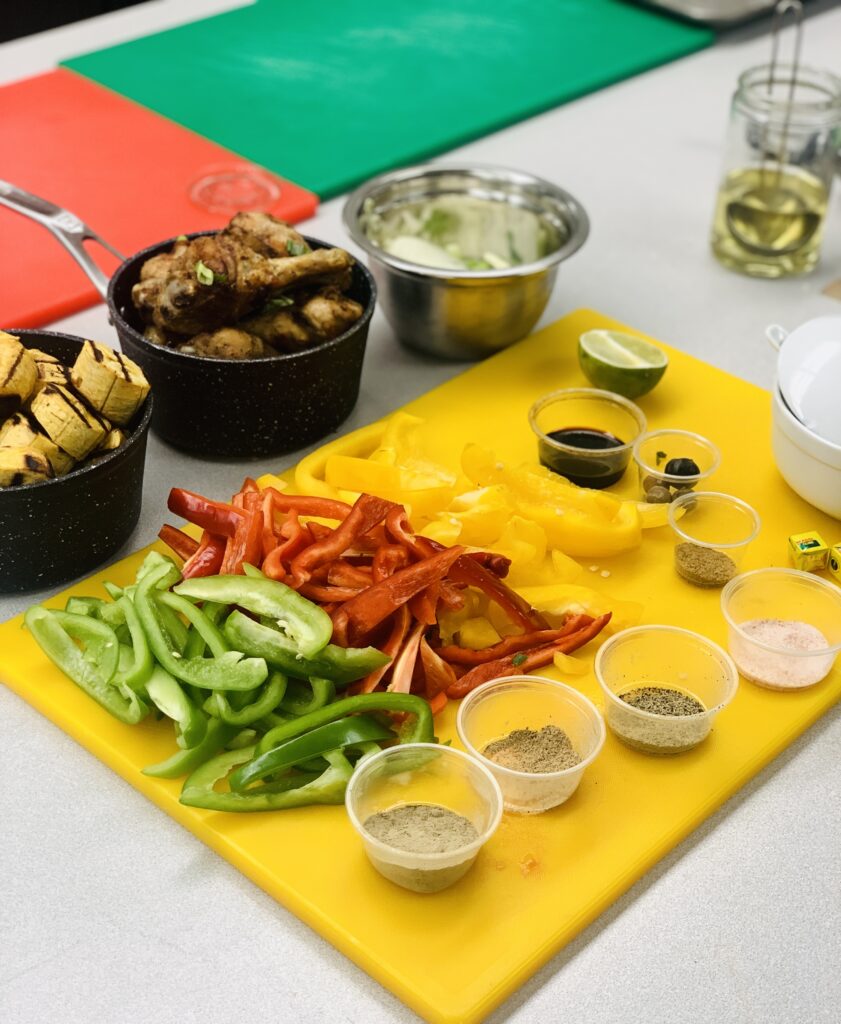 ---
Pro Tips from Claudine:
To Fry or not to fry? Traditionally, the plantain and chicken are deep fried, but you can also opt for a healthier version that is still fantastic. Just grill these items up; Claudine loves using the charcoal grill to get that smokey taste- taking the flavour to the next level and cutting cooking time and added oil.
For chicken with super charged taste- start by blending some white & green onion, garlic, ginger and spices (optionally some scotch bonnet pepper for those who like it hot), and marinating the chicken in this mixture for 30 minutes- a few hours before cooking. The recipe calls for chicken wings (and these are what she recommends), but you can use any type of bone-in chicken (note that this will change cooking time).
If you don't grill your tomatoes, blend them with the red pepper and cook this mixture down first (before adding aromatics). This is help to cut the 'sour' taste from tomatoes and allows for better marrying of flavours in the stew mixture. We are aiming for smoky, salty and spicy… soooo no sourness needed here!
Claudine opted to use red, yellow and green peppers intentionally because these represent the colors of the Cameroon flag. Incorporating more color into the dish makes it look oh so beautiful if you are aiming to impress with your cooking skills
Claudine recommends only cooking vegetables until 'al dente'. She likes when they have some crunch and retain their vibrant colours. This gives the dish more textures as well. However, this is up to personal preference, and if you like your veggies very soft, cook accordingly- but be careful, if they get too soft, they can turn to mush when combined with everything.
Catch Cameroon at the Heritage Festival to try out some tasty dishes- they have something for everyone, there will be plantain, marinated chicken, beef kebabs, vegetarian options (like koki beans and Accra banana bites), hibiscus punch and a variety of other great options. You can also stock up on your spices, learn more about their culture, buy some beautiful items and watch special performances. If you are interested in checking out more Cameroonian food flavours beyond Heritage Festival, check out Food Invite, a locally owned, female run small business showcasing culture through food. Let us know if you try this Poulet DG recipe and bring a taste of Cameroon into your kitchen…. We promise that you won't regret it!